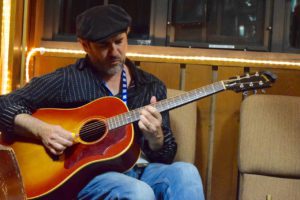 Jon Shain is a veteran singer-songwriter who's been turning heads for years with his words, his fiery acoustic guitar work, and his evolved musical style – combining improvised piedmont blues with bluegrass, swing, and ragtime. He is the 2019 winner of the International Blues Challenge in the solo/duo category. Shain's most recent solo disc, Gettin' Handy with the Blues: A Tribute to the Legacy of WC Handy, was released in 2018 and is soon to come out as a music book published by Mel Bay. Shain's latest releases recorded along with long-time collaborator FJ Ventre are the  gorgeous roots album, Tomorrow Will Be Yesterday Soon (2019) and Never Found  Way to Tame the Blues (2021).
Jon grew up in Haverhill, Massachusetts, a Merrimack River mill-town that had already seen its better days by the time he was a child in the 1970s. His family's business was a small textile dyeing company, and he worked in the factory during the summers throughout his teens. At the same time, Shain began to discover his love of American roots music and songwriting, specifically drawn to the narratives about regular people and themes of social justice.
Shain headed south to North Carolina in 1986, to study American History at Duke University and to continue his musical journey, as well. In addition to studying with jazz professor Paul Jeffrey, he also had the good fortune to learn the piedmont blues tradition firsthand by playing in Big Boy Henry's backing band. It was at this time that Shain also got to meet and play with John Dee Holeman and a number of the great older NC blues players. Shain's classes in school were heavily concentrated in southern history, English, and world religions. That mixture of the academic environment and the real-world blues music is what has most informed his musical direction.
Shain cut his touring teeth from 1989-1998 founding the Chapel Hill, NC folk-rock group, Flyin' Mice and their spin-off group, WAKE. The band performed with acts such as David Grisman, Tony Rice Unit, Hot Tuna, and the Dixie Dregs, released four CDs, and played clubs, schools, and festivals up and down the East Coast, building a legion of fans.
After his band's breakup, Shain went solo, returning to his roots in the folk and blues circuit. In addition to two albums with FJ Ventre and one with Joe Newberry, Jon has released ten albums of his own folk-blues compositions. Shain and Ventre also recently produced Donna Herula's blues radio chart-topping album, Bang at the Door.
The last several years has seen Shain and Ventre headlining listening rooms on the East Coast, in the Midwest, and in Europe, as well as opening shows for John Hiatt, Keb' Mo', Little Feat, and others. When Shain is not recording, producing other artists, or performing, he stays busy giving private instruction in Piedmont blues fingerstyle guitar, and teaching group workshops in songwriting and blues guitar.
Musical Partners-in-Crime
Below are some of Jon's musical buddies who perform with him frequently and are featured in his recordings.
FJ VENTRE – Upright bass, vocals

FJ Ventre and Jon began playing music together in 1982 when they met in high school. FJ went on to University of Massachusetts-Lowell, earning a B.A. in Music Performance and Sound Recording. He remained in the Boston area, performing in the city's vibrant music scene. Since relocating to Chapel Hill, NC in 2000, Ventre has performed with his own group The Swang Brothers, as well as Chris Stamey, Rebecca and the Hi-Tones, and Matt Hill. In addition to performing as a sought after sideman, he spends his time behind the mixing board, engineering at his own Good Luck Studio and operating his graphic design firm Tadpole Designs.
ALLYN LOVE – Pedal steel, dobro

The talented multi-instrumentalist Allyn Love began playing with Jon in 2017. As one of the area's most sought-after steel players, Love is at home playing everything from Bluegrass to Bebop. He  has spent many years on the road with country legend Steve Wariner and has recorded on dozens of Americana albums over the years.
JOE NEWBERRY – Guitar, banjo, vocals

A frequent guest on NPR's Prairie Home Companion, Joe Newberry has long been a luminary in the old-time music scene, playing with the likes of Big Medicine, Bruce Molsky, and original members of The Red Clay Ramblers. Lately, he tours with Mike Compton and with April Verch. Joe has been recognized for his songwriting prowess with an IBMA award for song of the year, as recorded by The Gibson Brothers.