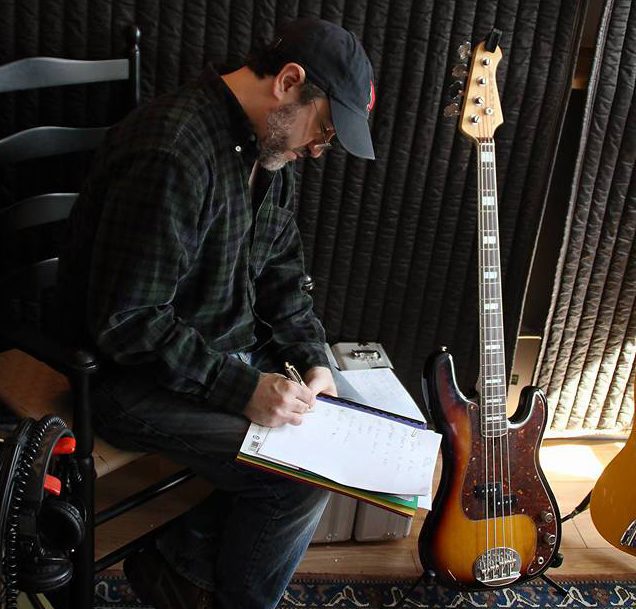 One of my favorite things to do is work with people bringing their musical dreams to life. It's a great honor to be included in that process, as almost a musical midwife! The way I see it, my job is to get the artist from starting point to finished project, whether they already know the exact way there or not. Navigator, interpreter, and planner, I try to bring their vision into being with as much or as little of my own stamp as they wish. I am willing to play on the project – acoustic, electric, slide, mandolin, etc., and also hire the best musicians in the area.
Most projects go like this:
Pre-production: Choosing the material; working on each song's arrangement, lyrics, and music; discussing the workflow plan; and booking studio times and supporting musicians.
Recording: Being a guiding voice and sounding board in the studio; sometimes contributing guitar, etc. when needed; acting as a second engineer when needed; weighing in on mixes and masters.
I partner most often with FJ Ventre, engineer and owner of Good Luck Studio in Chapel Hill. We also have access to larger spaces and I am willing to travel to work where the artist may be.
--- "Thank you both so much for doing such great work. It was a joy to work with you, and I love having an album that I am not only going to be proud of, but also holds such positive memories." –– Karyn Oliver, singer-songwriter, Greensboro, NC
"Jon Shain is much more than a producer. He acted as composer/arranger, coach, guitar teacher, guitar wizard, orchestrator, conductor, marshaller of fine musicians, all supporting a vision of a sound for my album that he had. Jon and FJ work in the studio as a team – like two guys who have been singing together since high school, FJ taking care of the technical details, Jon constantly making sure I was comfortable, and listening carefully to make sure he was getting the sound he needed, all with a gentle, positive attitude. He carefully chose and prepped the other musicians, who gave my songs new depth and color." — Rick Drost, singer-songwriter, Cambridge, MA
"Jon Shain is an absolute pleasure to work with in the studio. His intuition for songwriting and arrangements is unparalleled, consistently providing productive input and insight into the music composition, arrangement, and recording process. He is undoubtedly one of the most innovative producers with whom I've worked, and I would highly recommend him to any singer-songwriter seeking a sharp and mindful contributor for their next project." — Kaitlin Grady, cellist, Durham, NC